2011 GIRL SCOUT ANNUAL MEETING CEREMONY- GIRLS SCOUTS GO BIG!
CLICK ON THE TITLE TO SEE THE SLIDE SHOW!!!!
On April 16, 2011 I went to the
Union Station
in Downtown Dallas to attend the
Girl Scout Annual Meeting Ceremony
Luncheon
. The event lasted from 9:30 a.m-1:30 p.m. with the key note speakers,
Chair Of The Board
Valerie Freeman -
Founder/CEO of Imprimis Group & Bravo Technical Freeman., Director & Co-Founder of ANSTREAM LLC., Board Member of North Dallas Chamber of Commerce
who
is now the

new 2011-2013 Chair Board Member
, and

Girl Scout Of North Texas - CEO
Colleen Walker, Former Board Chair who has retired her governance position in April 2011 which she has served since 1996. Then board officer in 2000 and named first Board Chair of Girl Scouts of Northeast Texas in 2007 -Lynne Mabry, Barabara Van Riper, Sharon King, Rani Garcia, Secetary Earl Simpkins,
who walked us through every single accomplishment that the Girl Scouts of America have done over the years and showed us how important it is too be a Girl Scout, and that your never to old too be one. They covered about the different types of camps that will be there and won't be there anymore along with covering how much money they raised for the camps. These key speakers announced who was nominated to be a
National Council Delegate.
Juliette - Appiah Montgomery

is now a
National Council Delegate for Texas
out of
15 adults and Appiah is one of the only 2 girls selected to represent our cause. Also recognized at the annual meeting was
Richardson Texas Service Unit 164's Cookie Coordinator Rich Harms,

which has been an important role keeping up annual cookie sales for many years. Most
of all, everyone there was truly honored to be there and learn more about Girl Scouts than what I thought I knew. According to the Girl Scouts of North Texas, 2010 was a year of transformation for Girl Scouts of North Texas (GSNETX). Girl Scouts has an amazing legacy of 99 years old advancing millions of girls and women into the nation's leadership pipeline. it is with this proud perspective, and the need to be relevant for today's girls, that GSNETX undertook a strategic effort. With the 100th anniversary on the horizon, GSNETX set out to create a high performing, high capacity council to serve girls brilliantly in the second century of Girl Scouting. To be exact, nearly 2.5 million Girl Scouts and 50 million Girl Scout Alumnae nationwide are anticipating the 100th Anniversary of Girl Scouts on March 2012.
New Slate 2011-2013
Valerie Freeman-Chair of the Board
C.J. Vogel-First Vice Chair
National Council Delegates
National Council Alternates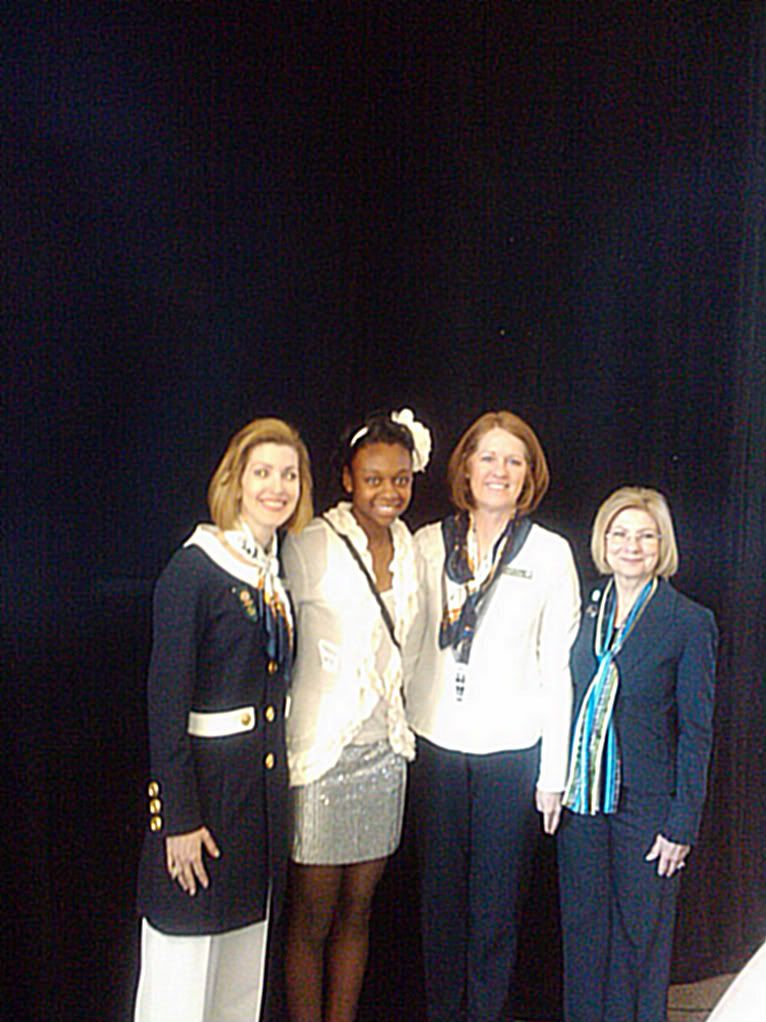 Add caption