TORI AMOS
One of my favorite artist does it again. Sometimes, the artist I admire and love listening to doesn't always come out with great material. Not to mention that I'm a hard critic, though. And I won't say anything. But Amos is really making the mark. Even the video is very artist. Leave it up to Amos to tell us her story. According to other sources, they say, Amos is
a fearless explorer, having previously examined such dark topics as adultery, rape, homophobia and death in her rich aural tapestry of rock, electronica, country and Celtic influences. Her acclaimed 12th studio album,
Night of Hunters
, released in September, delves deep into mythology and classical music. But I say she's clever.
http://bcove.me/bf9mj16w
From Hair Loss To Wigs
America's Next Top Model All-Star Allison Harvard Makes Her Debut at 100,000 Views
When I look at

ANTM All-Star, Allison Harvard

, I think of porcelain dolls because of their still eyes. She even dresses like one, too. I still have dolls, you know. In which, I find her eyes haunting but at the same time innocent.
Harvard's character doesn't come off artificial by far. She reminds me a lot of the character
Luna Lovegood
in the novelist J.K. Rowling's-Harry Potter. Harvard comes across as very fairy tale, full of mystery, and enchanting. You want to ask her what she's thinking next.
In fact,

Cycle 17-Episode 8

Harvard was taken out her comfort zone because the challenge was singing and appeared scared because she felt like she would have to conform to being a pop star or something. It look to me like the music producer couldn't just line her up with the rest of the girls style of music because she's different. For better words a diamond in the rough. After being upset about how she would sound and then what she wrote about which was about her dad dying last year. Who knew? But very sad and like Tyra I felt connected to her inner soul, as well. That's what made the song so special because with music artist when they write a song and it comes from deep with that's what makes a great song. Especially, the fact that she didn't want to participate in the challenge in the first place. She ended up winning best video and song because she persevered. Like one of contestants said about her is "not only can she act but she can model, act, and sing." Triple threat!
Her song kind of sounds airy like singer Ellie Gould. Honestly, I would not have added Tyra and the person in there because it takes away from the video and I know it's not up to her but...
Now, soaring through the internet she has over 100,000+ views as she debuts her new song Underwater.
Willow Smith and Nicki Minaj Dou
Honestly, it's one of those kill it or feel it's. According to many sources,
Willow Smith
has released "Fireball," the follow-up to her first two singles, "Whip My Hair" and "21st Century Girl." The pint-sized pop star indicated via Twitter on October 5 that its release was imminent: "My new single is coming soon, really soon, like maybe tomorrow soon :) #FIREBALL:)" Speaking with MTV News, the producer
Jukebox
, who recently revealed that he has worked on Willow's much anticipated album.
K104
NAKED and

FAMOUS- YOUNG

BLOOD
Naked and Famous is a new band invading the radio stations everyone!
The New Zealand indie rock band from Auckland swept the nation with their hit single called Young Blood, which hit the number one 2010 chart in New Zealand. Now there here in America with their album called Passive Me, and Aggressive you that came out on my birthday actually Sept 6, 2010.
Enjoy!
GREAT NORTHERN - Houses
Peep this out! Rockin' soundtrack from ROOMMATE. I would never tell ya wrong.
Karmin & The ROOTS vs. Nicki Minaj
I must say that this songtress and rapper with Nick as her partner in crime accompanying them is legendary group

THE ROOTS

. Yes, people in the small apartment the internet sensations get major back up. Why? Because if your good better yet great. The industry is not going to have a problem with supporting real music artists that are trying to break into the industry. Full force and don't stop and it won't stop. Better yet they we're chosen to be apart and nominees of the

TEEN CHOICE AWARDS 2011

.
SHAIMUS FROM SOUNDTRACK : THE ROOMMATE
Shaimus is an alternative band from Boston,

Massachussetts

and formed in the year 2004 .Shaimus is known for there songs" All Of This " and "Like a Fool", which was in Rock Band 2 and Guitar Hero. Shaimus played live songs such as Let go and Tie you Down

in the thriller movie

The Roommate

! This is there song "Tie you Down ".
YEAH

YEAH

YEAH'S

!!
Yeah Yeah Yeah's are an American indie rock group that got together and formed there band in New york within the year 2000! Their first song that they came out with was Fever to Tell , but they are famous for Zero and Heads will Roll

! I would recommend this band to be played during proms or any kind of party because it is appropriate to listen too and fun to listen to for all ages ! Check out there song

Heads will Roll

!
REMIX PARTY (LIAM KEEGAN)
Every party needs remixes right? Well I suggest you Liam Keegan! Why? Liam Keegan mixed artist like Katy Perry, Rihanna , and Kesha ! Liam's remixes is what you should request to a Dj at party if your looking to dance and have fun ! Don't believe me than check out this remix by Liam Keegan of Rihanna herself .
CAN YOU DO THE BRITNEY LIKE
NICOLE RICHIE?
Get it girl! Who knew? Nicole rocked that! That's what I'm sayin'. I 2nd the who's next!!!!!!
BET AWARDS Rehearsal 2011!
Tonight is the night people. The line up is long for all the performers that are performing. I mean you got Lil Twist, Lil Wayne, Drake, Kelly Rowland, Chris Brown, Usher, Rick Ross, Patty LaBelle, etc.... It's crazy here. Let's get ittttttttt!
EX

MEMBER OF t.A.T.u MAKES HER COME BACK SINGLE BUT ABOUT WHO ?
Some of you may remember ex member from

t.A.T.u

,

Lena Katina

, a sensational russian band that not just made it big in there country but also in the U.S !

Lena

Katina

and other band member

Yulia Volkova

performed songs "All the things she said " and "Not gonna get us" in year 2003 at the

MTV movie awards

. Later they split up and now

Lena Katina

released her new single " Never Forget You" in
Monterrey,
Mexico
on station

Fmtu1037

where they interviewed her .

Lena

Katina

says that her song is about former member of

t.A.T.u

,

Yulia Volkova

, the band , and how the teen pop group got put on hold to have solo careers . Katina's album was written with

Barolli Music

in Sweden . Album release date has not yet been revealed but we will keep updates !
KATHY BETH TERRY A.K.A KATY PERRY : LAST FRIDAY NIGHT
Katy Perry decided to take a turn on the geeky side while she party's it out with Rebecca Black , Kenny G, Kevin McHale,and Darren Cris in her new Music Video Last Friday Night

!

This video may be RACY for children under 13 years old

!!!!!

SO IF YOU ARE DON'T WATCH THE VIDEO AND IF YOU AREN'T PLEASE

ENJOY
10 year old Can Show Christina Aguilera A Few Things About The Star Spangled Banner
Julia Dale,10, was fearless singing at the NBA Finals. Like I always say.... Ya just have to see for yourselves!
GLEE MAKES LADY GAGA LOOK BAD !
I know that this is a old episode from the the hit show

GLEE

but it is a goody !
Michele and
Idina Menzel do a duet on one of Lady GaGa's songs called

Poker Face

but with there own rendition to it they totally out did her on this ! Have a listen to the song on the video below and If you already saw it on television you can look at it

AGAIN

and remember how great it was !
WILL AMERICAN IDOL GO ON WITH OR WITHOUT LAURA ALAINA, tonight?
Is it just a rumor? Sources say that Laura has a sore throat. Competition is narrowing down. This is very crucial and every show counts. The question is... Will they make exceptions for the 16 year old contestant? Who knows at this point. All that matters now is that American Idol finals are tonight on FOX.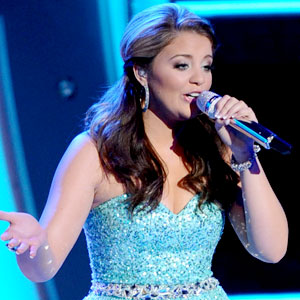 E!
Karmin-THE NEW YOUTUBE.COM SENSATION
This dynamic duo does it right by our community. They come hard with their amazing cover from
Lil Wayne' "6 foot 7 foot"

. But did it better. It actually needed a makeover. Check out the other favorite cover that's out now called Look At Me Now from Chris Brown, Busta Rhymes, and Lil Wayne. They had earned a spot on the Ellen DeGeneres Show performing that very single cover.
TEAM WORK-Beyonce and Michelle Obama put together a song for kids to stop obesity at school
Apparently, this is a serious matter that has been on Michelle Obama's TO DO List for some time now with her "Let's Move" and it finally has come about to fight obesity in school. There Beyonce comes in at is she sends the message out and makes it HOT by doing amazing dance moves with junior high students that she does in 8 parts. "B" puts on the semi-daisy dukes, my signature look knee-high socks, and high heals. The mega artist took her 2007 hit song, "Get Me Bodied" and turned it into "Move Your Body." This is in support of the first lady's healthy eating campaign. "Move Your Body" was an instant hit with $1.5 million views on YouTube.com in less than a week.
Here's a preview of the video what took place! Please get involved by going to
ttp://www.facebook.com/NABEF andhttp://www.twitter.com/NABEF