MOVIES TO KNOW :
Remember the Blue Girl Raven from X-MEN Well Behold HUNGER GAMES
Normal procedure is the book comes out before the movie. Listen the book its out. The long awaited time is coming to a close. The buzz is that the Hunger Games is coming to the big screen on March 23, 2012.
NEW Trailer Of Kristen Stewart's "SNOW WHITE The Huntsman"
Not much to be said. But it is clear that there's going to be some action. The way I see it. This show is going to be right up my alley. The whole embellishment of couture fashion, dark, erie tale of Snow White... So take a look.
THE PERKS OF BEING A WALLFLOWER
Emma Watson takes a whole new role which I must say is very intense and nothing like her at all, but that's the world of acting isn't it? Watson plays the role of
Sam
in "
The Perks of Being a Wallflower"
who is a girl that influences her friend
Charlie
,
Logan Lerman
, into the world of sex, drugs, and difficult relationships with her friend
Patrick
,
Ezra Miller
.
SOURCE by Google

On-set of The movie
TEKKEN

BLOOD

VENGEANCE HIT'S THE MOVIE THEATERS
Tekken the game that has been here for decades and played all over the globe by gamers will be hitting the movie theaters July 30, 2011 and in 3D!!! Be looking forward too a lot of action, and a lot of Tekken fans! Here is The Trailer :
HARRY POTTER AND THE DEATHLY HALLOWS PART 1 AND PART 2
REVIEW
Harry Potter's part 1 of The Deathly Hallows in my opinion of the movie was well structured, thrilling, suspenseful, and fully action packed. I loved the emotion that was portrayed in the movie , which was love, fear, and sadness, that each actor sent through there character to really bring it out too the audience the seriousness of the movie. I loved how J.K Rowling in not only each book but in each movie showed the characters from the beginning to end how much they have grown up through there innocence as a person, in their strength from good or bad, and brought it up too the part 1 of Harry Potter. In previous movies Harry, Hermonie, and Ron were the innocent amateur kids that had magical adventures , learned witch craft and wizardry, but most of all everyone knew the hero Harry Potter "The Boy who lived" who became known as "The Boy who lived come to die "! As for in part 1 of The Deathly Hallows Harry is no longer the boy who can do it all by himself as he has been used too but soon realizes he can't and that he needs help from all of his friends. Which is what I love about part 1 of The Deathly Hallows is the message that is shared to the world , that friendship between Harry and his friends, but mostly the love that they all have for one another up into the point of risking their lives for him! As you watch Harry Potter and The Deathly Hallows part 1 you feel the suspense of "What will Harry and his friends do next "? , your heart will race and mainly this movie will keep you on your toes . Well done !
A+
Harry Potter and the Deathly Hallows Part 2 was probably one of the most anticipated movies this
decade! It was for me. For people like me who have literally grown up with the trio from Hogwarts School, it was a very emotional movie; because it is the last of its franchise. I knew what to expect and I also didn't know what to expect! I love how the movie was done. It was action all the way through, but not dry, emotionless action....it was heartfelt action. I felt as if I was there ready to cast Expelliarmus to help my friends beat the Dark Lord Voldemort! The graphics were out of this world! The acting was outstanding! The movie was MARVELOUS! It had love, friendship, action, and humor. All four of these blended together and kept me on the edge of my seat the whole time. I loved how they (actually J.K. Rowling) incorporated scenes and places of previous movies in this last one. Of course no one wanted it to end, but since it had too the ending was amazing. This movie the one to have made a lot of people cry
. It was so emotional as it was for most fans to see the ending. I love how it
related back to the first movie...so many memories brought back from when I was 10 years old watch
Harry for the first time. I can't wait to go back to the theatre again next week to see it again! I will always remember Harry, Ron and Hermione.
On July 14, 2011 thousands of fans around the world came to there nearest theater to see the mid-night premiere of
Harry Potter and The Deathly Hallows Part 2
. Die hard fans came dressed up as there favorite characters, objects, and magical creatures along with there chairs,books, and playing card for the wait of 12 o' clock midnight . I got the scoop of it when I arrived to Northpark mall and got a glimpse of the lines when I quickly realized that there 22 lines , but luckily for me my line was upstairs , on carpet , directly looking at my theater !! I was third in line when I arrived at around 4:00p.m next to other people who came around 3:00p.m and the 1st guy in line arrived at 1:00p.m . Unfortunately those who came later and decided to pay for there tickets on the night of the midnight premiere were out of luck because all of the 2D tickets were sold out a month ago and 3D tickets were sold out weeks before the premiere. 2D people were at the bottom with no carpet by the ticket office , and 3D was upstairs on carpet closer to the theaters ! Let's talk about the costumes! Everyone was dressed up with there wands, scars, and glasses..haha... There were a lot of Owls, Harry's,Villians, and Golden Snitches! Some people came very fashion forward wearing designer T-shirts , stelettos , geeky glasses , and neat hair styles ! While others came very creative wearing hand made T-shirts , sticks as wands , clipped and snipped
Luna
Lovegood
glasses , and card board owl costumes! The wait was long but well worth it for such a great movie!!!!!
Credit's to Appiah Montgomery Part 1 & Mid-Night
Credit's to Kyle Byers Part 2
NEW

GI Joe 2

Casting?
All these changes with people leaving and starting new. Well here it is!
Toyfare
TRANSFORMER 3 : THE DARK MOON
Transformers 3 ,by Director Michael Bay ,is overall a good action packed movie for the summer! Starring Shia Lebouf , and Burberry model Rosie-Huntington-Whiteley. Transformers 3 is a good movie but unfortunately the story line isn't all that great because of the villain. I think that the chemistry between Shia Lebouf and Rosie-Huntington-Whiteley isn't the same as it was with Megan Fox especially since Shia admitted to the fact that he liked Megan , which explained why there was so much chemistry between them in the movie . The whole cast says that they miss her very much even though Shia Lebouf doesn't want to admit to it! Other than that flaw the stunts in the movie is very exciting for viewers to watch and worth the money !
Rating

=
B+
SOURCE by E!
Booooo! I Don't Know If I can Agree With This...
The top-grossing films, per Friday-Sunday estimates as compiled by Exhibitor Relations:
Cars 2

, $68 million

Bad Teacher

, $31 million

Green Lantern

, $18.4 million

Super 8

, $12.1 million

Mr. Popper's Penguins

, $10.3 million

X-Men: First Class

, $6.6 million

The Hangover Part II

, $5.9 million

Bridesmaids

, $5.4 million

Pirates of the Caribbean: On Stranger Tides

, $4.7 million
Midnight in Paris

, $4.5 million


First of all, KUNG FU PANDA 2 should be apart of this list by far. After 4 weeks? I mean they made 193 million because people love this movie! And what happened to X-Men: First Class should be at least 2nd. What's going on people way better than Green Lantern and Super 8 by a landslide. People just don't have any taste in movies, at alllll! Duh! And why is it a surprise that Cars 2 is rated an A in my book. No. #1???? I think, yes! Pirates Of The Caribbean: On Stranger Tides should even still be on the list.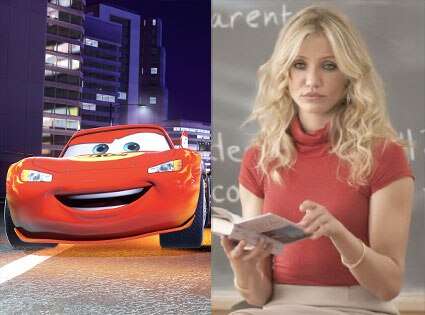 Sony Pictures

Read more: http://www.eonline.com/uberblog/b249378_cameron_diazs_bad_teacher_made_how_much.html#ixzz1QRQ4jCSp

KUNG FU PANDA 2

Kung Fu Panda 2, in all its awesomeness! Which was exactly great!

Jack Black

attack! Po as the Dragon Warrior and the Furious Five, the kung fu masters helps to keep the peace in the Valley of Peace. Suddenly, find out some new adventures and dangers. Fight your fight!! Others rated this movie as this
Yahoo! Users: A
The Critics: B but I rate this movie as that an

A+

.

1 hr 31 min, Action/Adventure,

PG

This movie is seen everywhere.
Listal

PIRATES OF THE CARIBBEAN 4 Pirates of the Caribbean is one of the those kill it or feel it movies for me. Definitely, it had that star power A-List in the film. There were some major slow moments in the movie. Especially, at the beginning. Don't get me wrong I enjoy

Johnny Depp

movies. Honestly, though I maybe have to watch it over and over. But usually, you watch movies over and over because you love it but this isn't the case. I gave this movie an C.

DIRECTED BY:

Rob Marshall



Running Time:

2 hr. 17 min.

Release Date:

May 20, 2011

MPAA Rating:

PG-13 for intense sequences of action/adventure violence, some frightening images, sensuality

Y



X-MEN FIRST CLASS DOES MARK THE SPOT !!!


X-MEN FIRST CLASS was a great action packed movie starring

James McAvoy

,

Michael Fassbender

, and

Jennifer Lawrence

. The movie shows the flashbacks on how all the mutants met in 1962 but I am not going to spoil the movie for you on that ! Look out for the new mutants in the movie as well such as

Lucas Till

a new actor whose role is

Hovak

a super hero (real name Alex Summers in the movie) who shoots out plasma blast from his waste and his brother is Scott Summers who plays Cyclops .

Luca Till who plays : Hovak SOURCE BY: EGO T.V

I give this movie a

A+

! This is worth the money in the movie theaters

MTV MOVIE AWARDS-SNEAK PREVIEW OF BREAKING DAWN
Of course, the moment we all been waiting for.... The MTV Movie Awards air this Sunday with even more footage of The Twilight Saga-Breaking Dawn Part 1. According too E!,
The first footage gives a glimpse of the highly anticipated wedding scene between Edward and Bella, played by real life couple
Robert Pattinson
and
Kristen Stewart
. Robert Pattinson, Kristen Stewart and
Taylor Lautner
are all confirmed as presenters at this Sunday's awards, where
Jason Sudeikis
will host
.
In which, we all know is vast approaching theaters on November 18th. Not a fan of the up do Kristen Stewart has here in the video but as for Robert.... I agree, he is looking quite dapper in his tuxedo. Anyway, take a look for yourself below!!
Fan Pix
HOLD UP,

HOLD UP

,

AND HOLD UP!

KAT FIGHT BETWEEN KRISTEN STEWART AND JULIA ROBERTS ON WHO'S PLAYING SNOW WHITE
First of all, Universal pushed the date up on the movie. According to E!,
"
As of today, that would be the untitled
Tarsem Singh
Snow White project starring
Lily Collins
as Snow White,
Julia Roberts
as the Evil Queen,
Nathan Lane
as her manservant and
Armie Hammer
as Prince Andrew Alcott.
Instead of their planned release date of June 29, 2012, Relativity will now put out their darkly
comedic interpretation
on March 16, 2012.
This comes hot off the heels of news that K.Stew's Universal project, co-starring
Chris Hemsworth
as The Huntsman,
Charlize Theron
as the Evil Queen and
Sam Claflin
as the prince, had upped
their
release date to June 1, purposely ahead of Roberts' Relativity version, which was previously set at June 29.
Are you still with us?
Basically, it sounds like the rival projects will be pushing up their release dates to come out before the other one until we hear these films are coming out, like, tomorrow.
How long do we give Team
Snow White and The Huntsman
before they push up their release date
again
?
We give 'em a week. If that.
Snow White don't go down without a fight!"
Drama, kat fight, whatever! Game on! Fight your fight! First Snow White wins or should I say best Snow White wins!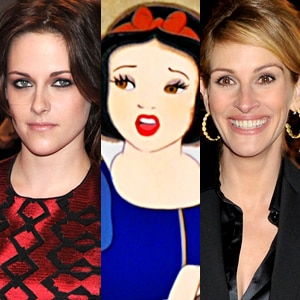 Getty Images
THE ROOMMATE
THE ROOMMATE, starring
Minka Kelly
,
Leighton
Meester
,
Cam Gigandet
, and
Aly Michalka
shows what could possibly happen in college for a lot of college students having to room in with someone they don't know. The movie is about how a college student named Sara who gets a new roommate Rebecca and finds out she is obsessed with her which turns outrageous . THE ROOMMATE was a violent, nail-biting, with a good plot that deserved a
A-
. Overall it is a really good thriller movie ! Now, out on DVD as of May 17, 2011.
SOURCE by GOOGLE


FAST FIVE
Fast Five back by popular demand. But some people liked it because they are fans star power of Tyrese, Vin Diesel, The Rock, Ludacris, etc...
According to,
Since Brian O'Conner and Mia Toretto broke Dom Toretto out of custody, they've blown across many borders to elude authorities. Now backed into a corner in Rio de Janeiro, they must pull one last job in order to gain their freedom. As they assemble their elite team of top racers, the unlikely allies know their only shot of getting out for good means confronting the corrupt businessman who wants them dead. But he's not the only one on their tail. Hard-nosed federal agent Luke Hobbs never misses his target. When he is assigned to track down Dom and Brian, he and his strike team launched.
But there was really no story line. Instead of, the movie being fast it was extremely slowwwwww getting to major action and thriller parts. This ultimately is given a
Grade B-
.
Y
R
I
O
Angry Birds
-DISNEY'S
RIO
was an exciting family movie. Particularly, geared towards boys. I was surrounded by boy mania. The main characters Blu and Jewel in the movie RIO new animated comedy. This was actually the creators of
"Ice Age"
.
According to Movies.com, A misfit macaw named Blu (voice of Jesse Eisenberg) heads to Rio de Janeiro, embarks on a magnificent journey, and makes some loyal new friends in this animated adventure for the entire family. Domesticated from the time he was just a hatchling, Blu traded a life in the clouds for a contented existence in Moose Lake with his doting owner, Linda (Leslie Mann). They live under the impression that Blu is the last of his kind, but upon receiving word that a female macaw named Jewel (Anne Hathaway). I thought that this deserves a Grade A+.
Rated:
Runtime:
1 hr. 36 min.
Genres:
Action/Adventure, Animated, Comedy
Director:
Carlos Saldanha
Trailer
Y
Blockbuster movie, THOR, was suppose to be another anticipated movie to being the summer. I mean with the amazing costumes and characters. One would think that the acting and the action pack thrilling would be going on during the entire time of the movie. But, it was a major disappointment. Sorry, I had to give this MARVEL a Grade
D-
.
Disney's Movie, PROM
Prom, the highlight of every year. Especially, if your a Senior this is most anticipated EPIC high school time of their lives. Not to give out to many details but Nova Prescott gets angry because a classmate tries hard to savatage her plans for prom. Meanwhile, as prom approaches she sees that things go nowhere but up. Most critics gave this movie a
C+
and I will have to agree. Sorry, I know! I'm a teen but this is typical and not somewhat boring. BUT, IT IS WHAT IT IS!
Genres:

Comedy

Running Time:

1 hr. 43 min.

Release Date:

April 29th, 2011 (wide)

MPAA Rating:
Distributors:
















































PROMOTIONAL POSTER
Well, it's a NO Go for Lindsey Lohan!!!
Unfortunately, it's a no for one of young hollywood starlets, Lindsey Lohan to star as Victoria Gotti in the movie Gotti: Three Generations. Reports from E! News say,
Producer Mark Fiore, "Talks have stopped and we are done."
AP
SCREAM 4

People were waiting on this movie to come out because of returning actors, Neve Campbell, Courtney Cox, and David Arquette which came out this past Monday. Critics gave it "B." Although, I do like the idea that one of my favorite cast member Emma Roberts. But it couldn't be beat the family movies that came out this past weekend:( I don't know you be the judge.




Chewbacca Speaks?

FINALLY CHEWBACCA BREAKS HIS SILENCE

Chewbacca

tells it like like it is. He makes his debut in an hour long Season Finale,

Star Wars: The Clone Wars.

The season finale of The Clone Wars airs April 1 at 8:00 p.m. on Cartoon Network.




Lucasfilm


SUCKER PUNCH
Now in theaters! Honestly, the rating or I should say the grade on this movie according to The Critics: C- E!News: B- Yahoo News: B-
In my opinion, I agree I like the clothes but... I will have to let you be the judge. Anyway, here's the trailer.
Rotten Tomatoes
Dr. Suess 3D - Taylor Swift lends her voice
LEGENDARY DR. SUESS GOES BIG BUDGET
Talk about star power! Let's see you got Danny Devito, as Lorax; Ed Helms playing Once-ler; Zac Effron, as Ted; Taylor Swift, as Aubrey the girl of their dreams; Rob Riggle, as King O' Hare, and lastBetty White, as Grammy Norma. Sooo, cute I can totally see Devito playing this character-LORAX, OMGOSH! Unidentified source says,
[
source:
Danny DeVito will stump for trees in 3-D 'Lorax'
].
Anyway, I'm STOKED!
USA Today

HOTTEST POP ARTIST OF ALL TIME
Michael Jackson, his sister Janet Jackson, and Madonna! Nuff said;)
fanpop
BOX OFFICE-KILL IT OR FEEL IT
WHO DIED AND WHO FOUGHT TO STAY ALIVE


This is reality. Who can believe that "The King's Speech" survived so many weeks, like 16 weeks, grossing over $120 million and winning an Oscar out of it. Not to mention that the lead role daughter broke the trophy while at home.
Then, Disney's "Gnomeo & Juliet" has been in the box office for a whooping 16 weeks grossing $890 million.
On the other hand, Disney's bomb movie "Mars Needs Moms" had an $150 million budget but ended up making only $6.8 million. Oh, nooooo! As you can see by The Wrap that Battle L.A. came in No.1 and here's the following:

The Wrap

Huh, This Director Went From Vampire To Werewolf?!!
OPENING NIGHT-RIDING HOOD 2011
Catherine Hardwicke, 55, the first woman to make the first movie "Twilight" series. She has also done some independent films like, "Lords Of Dogstown" and "Thirteen" before Twilight came along. When did Twilight it became the highest paid woman director in all time.
She loved Little Red Riding Hood and this time Hardwicke didn't have to rely on books from an author to lead the way to make the movie. It seems like the director made Red Riding Hood dark though. She picked this story because kids and adults see this story differently.
What's funny about this that the script was sent to Leonardo DiCaprio's studio Appian Way for developing the script. Ha! I'm named after this nile. It's a Hebrew name. Hot!
Anyway, getting back to what I was saying. Most importantly, Hardwicke got to pick her cast of people that she wanted. Like Amanda Seyfried from "Momma Mia" and "Letter's To Juliet." She chose Amanda because of her eyes, she's funny, beautiful, and she can do anything! Which most director would die to have.
Also, she picked Shiloh Fernandez who was her pick outta four for the movie "Twilight" but...
According to Harwicke, this is what she had to say,
Hardwicke cast as Peter the woodsman Shiloh Fernandez, a young actor she's been impressed with for some time.
"I tried to cast Shiloh in 'Thirteen,' but it didn't work out. And then he was one of my top four candidates to play Edward in 'Twilight.' I thought he was pretty great, but in that case I already had Kristen Stewart as my leading lady, and we based the casting of Edward on 'chemistry' readings. The actors did some scenes with Kristen, and it was pretty clear that she worked best with Rob Pattinson."
When she put Seyfried and Fernandez together for this project, Hardwicke said, "they really clicked."
Hardwicke and Seyfried traveled to England to audition actors for the second suitor, Henry.
I'll keep ya in the know after I see it. With that being said, MARCH 11!
Hardwicke cast as Peter the woodsman Shiloh Fernandez, a young actor she's been impressed with for some time.
"I tried to cast Shiloh in 'Thirteen,' but it didn't work out. And then he was one of my top four candidates to play Edward in 'Twilight.' I thought he was pretty great, but in that case I already had Kristen Stewart as my leading lady, and we based the casting of Edward on 'chemistry' readings. The actors did some scenes with Kristen, and it was pretty clear that she worked best with Rob Pattinson."
When she put Seyfried and Fernandez together for this project, Hardwicke said, "they really clicked."
Red Riding Hood
Ding Hood




Ip Man
Well, yeah I know is said that I was going to talk about Justin Beiber to see how well he was gonna do from his sells. But I decided, to do what I usually do. And that's taken care of business, first.
Yip Man, better known as, or a.k.a Ip Man was a fighter. As you know there's different kinds of fighters. When you see this movie you will be see nothing but
FIERCENESS!
Did come up with my own word? Only God could have put his hand on him. Seriously, everything he did reminded you of Jesus.
Most people know this about me that I'm not big on getting married, at all. But, if I everrrr get married this would be the ONLY kind of man that I will settle for. REAL TALK!!!!!
If you wanna see a POWER UP movie, a friend hip me on to this.
Netflix
or Youtube.com for those that have just internet is where it's at!
Source By: Wikipedia
Source By: onlinemovieshut.com
NEVER SAY NEVER
Justin Beiber goes back to where he started in Madison Square Garden but in 3D with the movie "Never Say Never." But do ya think Beiber's movie will be a blockbuster? Hmmmmm! We shall see, next week.
Source By: Y Music
TRON: Legacy
2 in 1!!!!!!!!! I call it double duty!!!! Of course, two roles played by one actor Jeff Bridges who
won an Academy Award (for short we call it an, Oscar) , a Golden Globe Award, aannnnndd Screen Actors Guild Award for Outstanding Performance by a Male Actor in a Leading Role. Psssssh! Bridges played Kevin Flynn and faced off playing Clu. The original Tron took place in 1982 on a grid.
Source by Rotten Tomatoes
THOR
Thor
I know that Marvel's comic Thor is going to be as friend Larry Mitchell would put it, BEASTY!!! As
Chris Hemsworth
is going to take human strength to another level. I really can't imagine anyone being disappointed about this character, at all! The movie debuts May 6, 2011. Ahhhhhhh! Yayyyyyyyy!
Source by MoviePosterDB
CARS 2
Cars 2
Disney has done it again! The animation is off the charts. Seriously, the first one was great. Encouraging everyone to check it because as the band Rascal Flatts would sing "Life Is A Highway." Coming to a theatre near you May 24, 2011.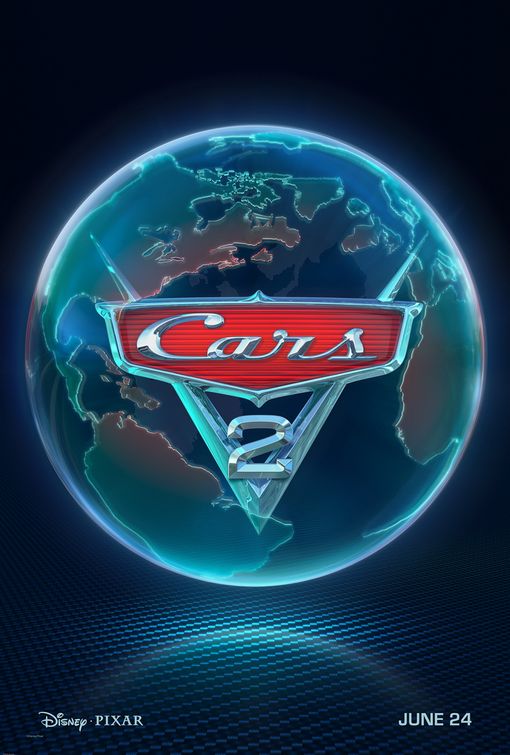 Source by Impawards.com
AVENGERS
Avengers
UUUUUUGGGGHHHHHHHHHHHHHHHHHHHHHHH! Here they come to do nothing but just POWER UPPPPPPP! Yeah, all these comics sharing the movie together!!! Can't wait. Well, neither can I!
Source by AvengersWallpaper.com
FOR COLORED GIRLS
For Colored Girls
Talk about
All-Star cast
Loretta Devine
,
Kimberly Elise
,
Whoopi Goldberg
,
Janet Jackson
,
Phylicia Rashad
,
Anika Noni Rose
,
Kerry Washington
and
Thandie Newton.
This might be Oscar buzz for Director
Tyler Perry
. He made plenty of plays and has even turned those into big screened movies like Madea's sequels, Daddy's Little Girls, and Meet The Brown's just to name a few.
CAPTAIN AMERICA
Captain America The Legend is back and is coming hard! You remember the comics ,and the legendary stories about him but what you didn't know was this upcoming summer Director,
Joe Johnston, has decided to do a story line on Captain America, starring Chris Evans, Samuel L Jackson, and Hugo Weaving.

July-22-2011
Source by fusefilm.com
THE GREEN LANTERN
The Green Lantern
You remember him as the kid friendly super hero that all kids and teens adored and haven't heard or seen him in a while, and all the other heros got credit well, lookout cause' this is far beyond what is expected of just the color GREEEEEEEEEEEEN! Coming out
June-17-2011
Source by thegreenlanterncorps.com
THE CHRONICLES OF NARNIA
The Chronicles of Narnia: The Voyage of the Dawn Treader
That's right people they've done it again with another brilliant movie by the known name as Chronicles of Narnia. Look forward to seeing
fantasy, whimsical, magic, and spiritual for it is even more jam of action than before! Coming out
December-10-2010
Source by Gossipteen.com
Harry Potter 7 part 1
Harry Potter and The Deathly Hallows
Now this is the movie we have known for many years and all
because of the amazing British Author
J.K Rowling;

Starring Emma Watson, Daniel Radcliffe, and Rupert Grint. This movie will also have characters from

Harry Potter's Sorcerers Stone

to the Deathly Hallows. Unfortunately it has all come to an end for this is the last Novel and Movie of Harry Potter . So if I were you I would go and see because tickets are leaving by the minute!
SOURCE BY DEALNAY.COM
Twilight Saga:Breaking Dawn is the very Last Chapter Novel of the collection for Twilight by Stephanie Meyer . Starring Kristen Stewart, Robert Pattison, and Taylor Lautner. Like I said yes the very last chapter to this series of books and Part 1 of Breaking Dawn will be out November /18/2011
don't miss out on this one!

SOURCE:Google
ALICE IN WONDERLAND
Alice In Wonderland
coming out on DVD June/1/2010 ! Starring Johnny Depp,(Mad Hatter), Mia Wasikowska (Alice), Helen Carter(Red Queen), Anne Hathaway(White Queen). Its a fun, cool, and an Out of this World trip into Alice's Mind that Girls will love to watch at slumber parties , Guys will love laugh at the funny scenes , Families will love to watch together, or you alone to watch by yourself ! Remember June 1st at all stores ;) Yeah
SOURCE: Google
IRON MAN 2
Iron Man 2
has already came out to theaters May/7/2010 ! Marvel has done it again YOU guys with another Fun ,Filled Movie , That will keep you on your feet wondering what will happen next !!! You WILL enjoy the action , the fun , whole idea of watching Robert Downey Jr as IRON MAN, Scarlett johansen , and Gwen . I've seen the movie my self and there is No Doubt that these Actors and Actresses brought it in this movie ! All ages will love it and its a gotta see go gettter enjoy:)
SOURCE:Google
STEP UP 3D
Step up 3D
is already out now ! I know what You are thinking "NOW how many Step Up movies are they going to have Man I am tired of all of these Step up movies " Well actually It turns out that Step Up 3D beats out all of the Step ups made before !
Critics say
: Step up 3D is Amazing !!! I honestly never had so much fun watching a movie .
So go check out the movie hurry before school starts !
SOURCE:www.Impaawards.com
THE SOCIAL NETWORK
The Social Network Facebook we are all now addicted too is out with its own movie and Yes it is a Documentary but not your Ordinary Documentary movie . Directed by David Fincher and
Stars:
Jesse Eisenberg
,
Andrew Garfield
,
Justin Timberlake and also Brenda Song . The movie is about
Mark Zunkberg who created the forever known Facebook and beat out Myspace , I saw it and Enjoyed it and I know you will too . The release date was October/1/2010 so yes it is out now so go see it!
SOURCE:www.psfk.com
TRANSFORMERS 3
TransFormers 3 Dark Moon
Yes People !! They have comeback with another Transfomers movie ! Sorry to all the Guys that love Megan Fox but Unfortunately she has moved forward from us ! But Yay for the Girls whom love Shia Lebeof he is Staying for another epic movie ! This movie is being is being shot in Chicago and I Heard its supposed to be way better than the other too Transformers movies with more action but with a Dark side too it ! The movie release is July,1,2011 Directed by Michael Bay ! So be ready .
SOURCE:Google
TOY STORY 3
Toy Story 3 Yes people Toy Story 3 is now out on DVD in stores near you! The Gang is back together again with some new characters! If you haven't seen the movie yet you should it was really good and It beat out "The Twilight sagas Eclipse "in the Box office for 1 billion dollars ! Pretty impressive and definitely worth the buy ;)

SOURCE:Google