Now,
Amy Winehouse
being dead, 27, we can only look at the brighter side of her. According to many reports from the Associated Press and others, that it was said that a 92 year old woman by the name of
Maragret Vinci Hendt
is responsible for the updo. Even
Kelly Osborne
, 26, got on board with the style. Showing up at Winehouse's funeral.
Y
Winehouse's poufy mane which stood no less than 5 inches tall, so closely resembled that of lead Ronette singer Ronnie Spector that the veteran performer thought she was looking at a photo of her younger self when she saw a picture of Winehouse in the New York Post.
"I don't know her, I never met her, and when I saw that pic, I thought, 'That's me!' But then I found out, no, it's Amy. I didn't have on my glasses," Spector told the Village Voice.
The hairstyle made its debut in 1960, and was conceived by Margaret Vinci Heldt, then a stylist for the Chicago-based Modern Beauty Shop magazine. Inspired to showcase something different for the February 1960 issue, Heldt conceptualized the new hair design.
"I went home, and I thought, 'What am I going to do that hasn't been done before?" Heldt, now 92 and retired, told the
Associated Press
in January.
Heldt waited until her family was asleep one night before she started styling the hair on a mannequin head, trying to emulate the shape of a small black velvet hat.
"Before you know it, something was coming out," she said. "And I thought, 'I like this.'"
The magazine, now called Modern Salon, dubbed the look "the beehive."
Heldt was amazed to see her style evolve and rise in popularity.
"It grew into bigger and bigger, higher and higher; it didn't just stay a beehive," she told AP. She said the hairstyle was especially appealing to short women who desired to look taller.
"The showgirls, they loved it because it made them willowy and tall," she said.
Now, 50 years after its inception, Heldt is receiving more accolades. The trade association Cosmetologists Chicago announced plans to award a scholarship based on creativity in her name. And the Chicago History Museum plans to include Heldt's mannequin head and velvet hat in an upcoming exhibit on the history of the beehive.
The beehive was more than just a hairstyle for the late, troubled pop star. When asked if she ever had good hive days and bad hive days during an interview with
Reuters
, the singer offered a decisive, matter-of-fact response.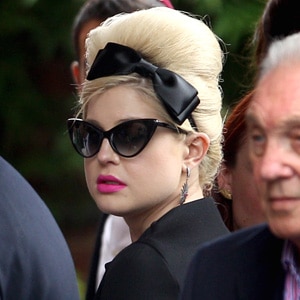 Getty Images